When UNIUYO Post Utme Forms Would Be Out For 2018/19
The most trending question in the lips of every aspirant of UNIUYO is When will UNIUYO Post Utme form be out for 2018/19 session? Other questions UNIUYO aspirants may have in mind pertaining to the University of Uyo 2018/2019 Post UTME Admission form and examination date are: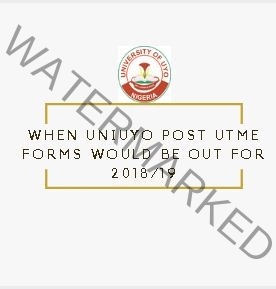 Why the delay in UNIUYO Admission screening form 2018 and when will the form finally be released?
Will UNIUYO Conduct Post UTME Examination this year 2018?
What are the requirements for UNIUYO screening?
Do you think UNIUYO will accept second choice this year?
Please can you tell me little about UNIUYO?
Why Delay In Release Of UNIUYO 2018 Admission Form?
There is technically no 'delay' in the sales UNIUYO post utme form, because admission forms are sold towards or after the end of the second semester except in very rare cases.
Now, the second semester is currently ongoing. So it is advisable to exercise a little patience because the post utme form will certainly be out soonest.
Will UNIUYO Conduct Post UTME In 2018?
POST UTME is illegal, but going from the precedents, it seems UNIUYO is comfortable with screening of credentials without actual exam writing but there is still a possibility that post UTME may happen. So click here to get authentic UNIUYO past question, and you have nothing to lose.
Requirements For UNIUYO Screening
I have already listed all the documents required for UNIUYO screening. It will be a monotonous to start listing them over again here.
Use this link to check out documents for UNIUYO screening and mistakes to avoid
UNIUYO Vs Second Choice
Don't just worry, UNIUYO doesn't accept second choice. In fact they can't even admit up to 40 percent of those who chose them as first choice. If you put in as second choice, sorry to disappoint you; it is time to do change of institution.
About The University of Uyo
Once again, this has been treated. Click here to go through everything you need to know about UNIUYO before you are finally admitted to study your desired course.
The Facts Below might also interest you:
UNIUYO will offer you admission if you merit it.
The UNIUYO admission process is very transparent.
The general cut off mark for the University of Uyo is 180.
The University of Uyo department cut off varies based on performace of candidates.
UNIIUYO hasn't announced any departmental cut off yet.
UNIUYO has one of the fastest  academic calendar.