Uniuyo Freshers' Screening Form And Requirements
This post will attempt to give you a rundown of the items/materials which will be needed for the 2019/2020 Uniuyo screening exercise  for newly admitted students. This list covers the requirements for both UTME & DE Candidates. However, before you proceed for the screening exercise, do ensure that your name appears on the admission list in jamb portal, and that you have already paid for your acceptance fee. After all these, then proceed to gather the relevant documents that will be listed here presently.
Quick Notice: All prospective Uniuyo aspirants should note that the Uniuyo 2019/2020 Post UTME and Direct Entry Screening Form is out and the registration is ongoing. the registration starts on 23-07-2019 while the Screening date starts from 19th to 23rd August 2019.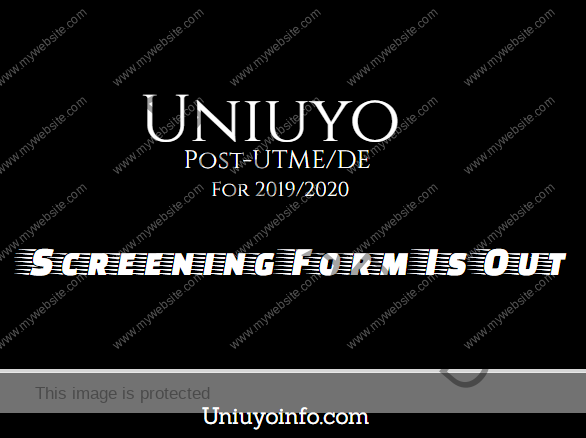 You should note that the screening exercise doesn't have anything to do with writing of exams. On the contrary, you are only expected to submit the required documents for the school to carry out their assessment on it, to determine whether you are qualified for admission.
Also note that the screening exercise is a thing that only last for a couple of hours, unless the number of students for that particular day is much. Hence, you have to come prepared, making arrangements for where you will sleep in case you didn't get screened on the first day.
Check your 2019 Uniuyo Admission status
UNIUYO POST-UTME REGISTRATION PROCEDURE FOR THE 2019/2020 ACADEMIC SESSION
All eligible candidates who choosed uniuyo as their first choice, and meet with the minimum cut off mark of 180 and above can easily follow this step by step guide to register for the uniuyo post-utme exercise. Just follow the guide below:
Visit the official uniuyo site via www.uniuyo.edu.ng/eportals or uniuyo.edu.ng
click on the admission forms link
In the admission form type, select post-utme entry
enter a valid phone number and email address
After which, you then click on the make payment now button to make your payment.
The payment can be made using your naira ATM card or internet banking. The payment is 2000 naira, excluding service charges.
Once you have completed your online payment, return to online portal and click on the register link to get your login information and also complete your registration process.
Once done, proceed to print your 2019/2020 screening exercise slip, and make sure you keep it safe.
Ensure to visit the page on a regular to get steady
updates concerning  UNIUYO Admissions.
2019 Uniuyo Screening Requirements
Original copies of their educational qualifications (Statements of Results/Certificates).
N/B: Cases of awaiting results will NOT be accepted.
Birth Certification/Age Declaration.
A letter of good conduct from your Village Head or a responsible member of your
community/or civil servant not below Grade Level 10 or equivalent in the private sector.
Certificate of Local Government of origin; and this notification of admission status
slip
One recent passport photograph with your name, your UTME registration number and signature boldly written at the back of it.
10 Requirements for Uniuyo Freshers' Screening (Last Year's)

Jamb Admission Letter

Jamb UTME Result Slip

 

Uniuyo Post UTME Result slip


O' level Results (Waec, NECO, NAPTEB)

 

Notification of Admission Status

Attestation Letter (Letter of Recommendation) from Senior Civil
Servant or Lawyer or Clergyman

 

Birth Certificate / Sworn Declaration
of Age

 

Local Govt. of origin Certificate

 

Acceptance fee Receipt

 

Four (4) office flat file
Note that the above stated document has to be presented both in their original and photocopies. The originals will only have to be looked at and returned to due in due time, while the photocopies will be kept for record purposes.
PS: Ensure your print outs are done with high grade printers. It
will save you a lot of stress during the Registration/ Screening process.
PSS: The Teller you were given upon payment of your
acceptance fee is very important. Take proper care of it.
PSSS: This info will be updated on a daily… Feel free to
drop any questions using the comment box below. You an also shoot me a question
to my facebook inbox.
If you still have some other questions you may want to ask us,
please feel free to use the comment section down below,a nd we shall get back to you as soon as we can, thanks.
---
Incoming Terms:
uniuyo screening date 2019, uniuyo screening date for freshers, uniuyo screening requirement, uniuyo screening exercise, uniuyo screening test result, uniuyo screening result, uniuyo screening time table 2019, uniuyo screening for new students, uniuyo screening test time table for 2020