When UNIUYO Would Release Her First Batch Admission List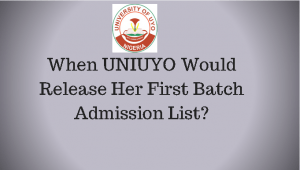 There have been a lot of anxieties and burning questions from aspirants  on the date when UNIUYO will release their admission list. The reason for creating this post is to update you on when the period the first batch will be released.
We expect that by November, the first admission list should be released. The compilation of the lists is currently ongoing and JAMB would also have a copy too.
As I currently type this, JAMB is currently incorporating  Jamb caps into your profile, though this might not be the reason for the delay, but it shows the process is actually ongoing. Once the process is unified, you will be able to check your admission status or the admission list on both the jamb caps system in your profile  and uniuyo portal, it is a unified process now.
The next important question you might ask is: 'will I see my name on the uniuyo admission list?' The answer is the first list will only contain the names of those who actually deserve (merit) the admission by virtue of their good performance in their UTME and O' level examinations.
This means to make the first admission list, you will need to score well above the cut off mark for your department. Don't forget the first admission list will be based on merit.
But, if you do not find your name on the merit list, cheer up! Other lists will be published later.