Uniuyo Faculty of Engineering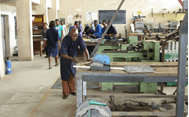 A centre for global reckoning for the study of Chemical and Petrolum Engineering etc. Multinationals in the mould of Total E & P, Oriental Energy Resources, Afren Oil Plc and others are poised to launch the Engineering Eldorado through collaborations, donations of laboratory equipment and other facilities to support the Engineering Faculty.
Brief Introduction of the Faculty
The Faculty of Engineering was founded in 1995/1996 session and cited at the Annex Campus of the University with a total enrolment of ninety (90) undergraduate students. The Faculty started with Five Departments, which among them run a total of eight engineering degree programmes as listed on the side menu.
The Faculty moved to the Main Campus of the University in 2004/2005 session. The Students population in the Faculty as at 2010/2011 session stands at 1643.
Academic Programmes
BACHELOR OF ENGINEERING DEGREE:
(B. Eng) – Agricultural & Food Engineering, Chemical & Petroleum Engineering, Civil Engineering, Electrical/Electronics & Computer Engineering, Mechanical Engineering.
Uniuyo Faculty of Engineering Dean
Engr. Dr. Linus Asuquo
M.Sc (KOSICE), Ph.D (Enugu), R.Engr.(COREN), FNSE, FNMS, FIQAN
Dean's area of Specialisation/Research Interest:
Metallurgical and Materials Engineering. – Mineral Processing and casting processes.
---
FACULTIES IN UNIUYO
Uniuyo Law Faculty
Uniuyo Faculty of Pharmacy
Uniuyo Deparment of Petroleum Engineering
Uniuyo Faculty of Science
Uniuyo Faculty of Engineering
Uniuyo Faculty of Arts
Uniuyo Faculty Of Agriculture