Uniuyo Eligibility Status… Check the New Cutoff Marks
update:
this post was written during the 2015 Jamb eligibility hullabaloo. The cut off mark was later reverted to 180 for all courses.
So, candidates who scored up to 180 in the 2016 Jamb are qualified to sit for the 2016 Uniuyo Post UTME.
One more thing… Almost all the other candidates will be prepping for Uniuyo PUTME with our Past Questions package. You would be giving yourself an unfair disadvantage if you don't get it too. Think about it.
---
Below is the new set of Uniuyo Cutoff marks as released by the school..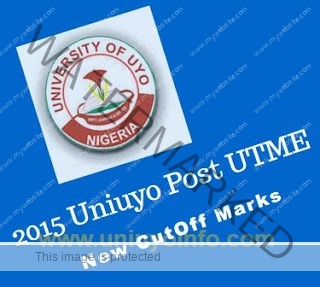 Faculty of Arts
Communication Arts (180), English (182)
Efik/Ibibio (182), French (182)
History & Intl. Studies (180)

Linguistics (180)
Music (180)
Philosophy (180)
Religious & Cultural Studies (181)
Theatre Arts (180)
Faculty of Social Sciences
Economics (181), Geography & Regional Planning (189), Political
Science and Public Administration (186), Sociology &
Anthropology (180), Psychology (180)

Faculty of Business Administration
Accounting (180)
Banking and Finance (181)
Business Management (185)
Insurance (181)
Marketing (180)
FACULTY OF EDUCATION
Accounting Ed. (180), Fine Arts Ed. (180), History Ed. (183),
Political Science Ed. (183), Social Studies Ed. (182), French
Ed. (194), Edu. and Social Science (180), Econs Ed. (183),
English Ed. (181), Geography Ed. (181), Religion Ed. (190),
Edu. Arts (180), Guidance and Counseling ((181), Efik/Ibibio
Ed. (226), Library Science (180), Pre-primary & Primary
Ed.((181), Special Ed. ((185), Computer Ed (180), Biology Ed. (180)
Integrated Science Ed. (180), Mathematics Ed. (180)
Chemistry Ed. (180), Agriculture Ed. (182) , Home Economics Ed. (181)
Physical Ed. (180) , Physics Ed. (180), Health Ed. (180), Vocational Ed. & tech (180)
Faculty of Law – Law (228)
Faculty of Agriculture
Agric. Economics & Extension (180), Animal Science (180)
Crop Science (180), Fisheries & Aquaculture (180)
Food Science & Technology (180), Forestry & Wildlife (184)
Home Economics (180), Soil Science (183)
Faculty of Basic Medical Sciences
Biochemistry (180)
Botany & Ecological Studies (180)
Faculty of Clinical Sciences
Medicine& Surgery (MBBS) – (227)
Physiology (182)
Faculty of Pharmacy – Pharmacy (196)
Human Anatomy (182)
Faculty of Science/Basic Medical Sciences
Microbiology (180), Human Anatomy (182)
Faculty of Science
Zoology – (183), Chemistry (180)
Computer Science (180) , Mathematics (181)
Physics (181) , Statistics (180), Technical Edu (180)
Faculty of Environmental Studies
Geoinformatics & Surveying (181)
Urban & Regional Planning (180)
Building (180)
Download Uniuyo Post UTME Past Questions Here
Estate Management (182)
Architecture (180)
Quantity Surveying (180)
Faculty of Engineering
Petroleum Engineering (186)
Agricultural Engineering (180)
Electrical/Electronics Engineering (180)
Food Engineering (180)
Mechanical Engineering (180)
Chemical Engineering (180)
Civil Engineering (180)