Confirm 2017 Admission Status on Your JAMB Profile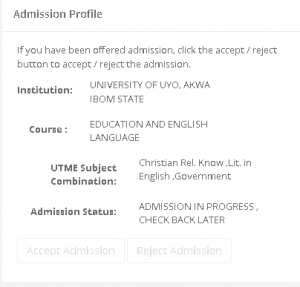 There have been a lot of uncalm and nerviness this week, due to the reports of several candidates checking their admission status via JAMB CAP system. While this is true, based on the announcement JAMB made regarding this new method of confirmation of admission. Aspirants are advisable to exercise caution because JAMB have not officially finalized the system.
You may have known that for you to be certain of your admission status, you have to be notified by JAMB through either SMS, your email or your JAMB profile.
We therefore urge candidates to follow the procedure below to check their admission status
Though you JAMB has not officially announced this, follow the steps below to access JAMB CAPS via your profile.
1. Visit jamb.org.ng/efacility preferably using a PC or chrome browser on mobile.
2. Login with the credentials( email and password) you created your jamb account with.
3. After successfully logging in, click on the options button ( the button with 3 dash) at the top of the page.
4. You'll see CAPS under the tag 'Admissions'. Click on it and you'll be taken to the CAPS page.
5. If the page only shows 'welcome', do not be discouraged. Just click on options on your mobile's browser and change the view of the page to 'desktop view'. This is why it's preferably to use a PC.
6. You'll see some options listed at the left-hand side. Click on 'Admission Status'.
7. It'll then bring your details. If you've been admitted, you can either 'Accept admission' or 'Reject admission'.
Since UNIUYO has not released her admission list, it should read: "admission in progress, check back later" under the tag 'Admission Status'. In this case, you won't be able to click on the 'Accept admission' or 'Reject admission' button.