update 24/08/16
The 2016 Uniuyo Screening is Ongoing.
Only the documents listed on your print out are required at this stage.
Uniuyo Screening Procedure

At the entrance of your venue.

Thumb print and Jamb Result verification will be done.

Get into the screening venue and sit according to your Jamb UTME Score.

Arrange your e slip, one photocopy of your O level result(s), a passport photograph(with your name, reg number, department and signature written on the reverse)

Once it gets to your turn, go submit all of those files to the person in charge.

Did I miss out something? Use the comment section to share your experience!
Just so you know.
Resumption date for the new section is October 3.
So, Make plans accordingly.
The 2016 Uniuyo Post UTME Registration has closed!
Wanna see something cool useful? Go like the UniuyoInfo Facebook Page
Go like it now.
I will be waiting.
Come on?
Click here to like the Uniuyoinfo page on Facebook.
What should your Print Out look like…
Ideally, below is what your Uniuyo Screening Form should be like.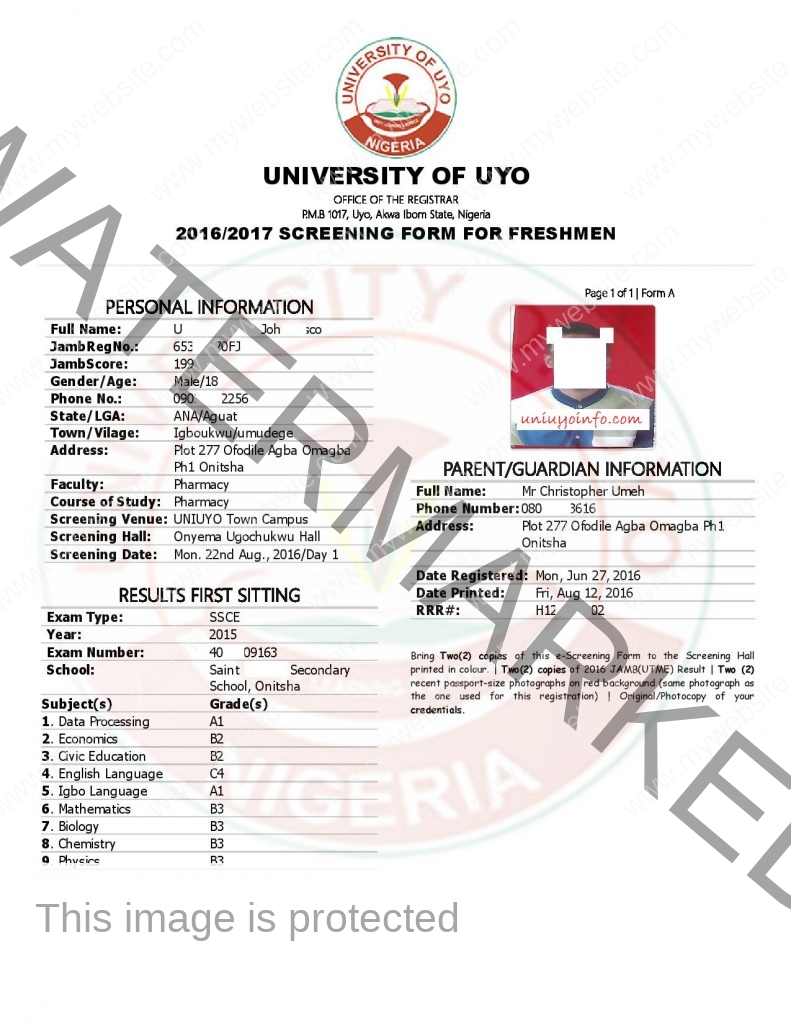 If there's an error, go back to the school portal.
Edit your details and reprint.
Uniuyo Post UTME registration closes on Sunday 14th August(17th August). If I processed your post utme registration, Please send in your O level results and other details. I will complete the process for you foc.
If you registered with an awaiting result. And your result is now out. You will stand a better chance if you go and update your results now.
Rescheduled Uniuyo Post UTME Screening 2016
The 2016 Uniuyo Post UTME form cost N2500.
Screening will start on the 22nd of August 2016. – See Details here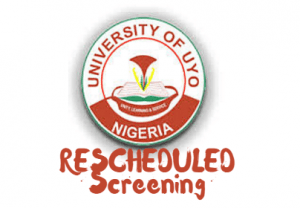 Jamb Withdraws the 2016 Admission List – See details
Forms for Uniuyo School of continuing Education is out – See details here
Any update from the authorities would be relayed here – See Blog
I will update this page once something new comes up. I will.
By the way, why are you the only aspirant that hasn't downloaded the uniuyoinfo android app?
Oya, go and download it now. click here
How to Check Institution You were Posted to
Jamb New Admission Guidelines
Jamb Admission Consideration Check
Visit uniuyoinfo.com daily for latest on 2016 Uniuyo Admission…
---


Uniuyo Cut Off Mark 2016
The official Uniuyo Cut Off mark for the 2016/2017 Post UTME will be 180.
The University of Uyo has confirmed that her cut off mark for the 2016 Jamb is 180.
So, if you scored 180 and above in the UTME and chose the university of Uyo as your 1st choice.
You are eligible to apply for the screening exercise.
Click here to download the official pdf that contains everything.
Uniuyo Post UTME Past Questions and Answers
Making some updates on the Past Questions. For Instructions on how to purchase the genuine Uniuyo Post UTME Past Questions and Answers – Click Here
Update(01/05/2016)
I just updated the Past Questions package. You should totally get this updated version. Every serious candidate is getting this updated Post UTME Past Questions. – Click here to get it.
Paying Uniuyo School fees – Remita
You asked for it. Here it is.
This is the quick illustrative guide on Paying University of Uyo School fees using the remita platform. Click here to read
Uniuyo Latest News FAQs 2016
Here is a compilation of Uniuyo related questions that you're about to ask.
Please go through this page before dropping any question in the comment box. Here is the FAQs page
Uniuyo Direct Entry Requirements
This is for candidates who want to apply for admission into Uniuyo via direct entry. please read the following requirements carefully. Click Here
Uniuyo Admission List
Updates on all Uniuyo Admission Lists shall be posted on dedicated Admission list page. This page shall regularly be updated will all list – Merit, Supplementary, Post Graduate, Diploma, Basic Studies, Pre degree? All will e posted on the Admission list page.
Computing Uniuyo GPA and CGPA
… By Course Unit System, I'm referring to a system by which the entire academic programme of a student is broken down into levels, and the levels broken down into semesters, and the semesters broken down into number of weeks, and the weeks broken down into credit hours to which individual courses…Read the full post
Surviving Your first Year in Uniuyo
… You begin school with a clean scholastic slate, alongside a great deal of freedom and a bunch of discriminating choices as you start the move into adulthood. The choices that you make and the moves you make amid this first year of school will have a noteworthy effect on whatever remains of your school experience… Read the full Post Here
Screening Requirement for Uniuyo freshers
If you are one of those folks whose pastor / native doctor has assured admission this year. You might wanna start arranging the necessary requirements for screening.
This post gives a rundown of the items/materials which will be needed for the typical Uniuyo Clearance for newly
admitted students. This list covers the requirements for both UTME & DE Candidates. Screening Requirements for freshers here
Latest Blog Posts on UniuyoInfo.Com
Top 10 Secrets of Highly Successful Students
Post UTME Score that will Guarantee Admission
Multiple Choice Exam Strategies And Tips
How to Beat Exam Anxiety
How UTME Score will Affect your Admission into Uniuyo
Why You Fall Asleep while Reading
Free Past Questions (Page 1 to 5)
Click on any of the subjects to download.
biology
————————————————-
---