Hello, Welcome the Jamb 2018 Update page. You'll find everything you need to know about the 2018/2019 Jamb CBT Exam – Jamb brochure, Jamb Syllabus, Jamb Registration Deadline, How to Purchase Jamb form, Jamb Admission Updates, Latest Jamb news, direct links to Jamb websites plus more.
At the moment the Jamb 2018 Registration has not started. Join other serious jambites to sign up to the 2018/2019 Free Jamb News Alert. Click here to register.
Jamb CBT practice for mobile phone:
There is a new platform all jambites are hanging out at. You can practice all jamb past questions from the comfort of your smart phone – This is not suppose to replace you hard core study but it will go a long way to boosting your performance in the Jamb 2018 CBT Exams. The Free Jamb CBT practice website is awajis.com/jambcbt . You should bookmark it if you're serious about your future.
Jamb CBT practice software for PC:
I'm sure you know the Jamb CBT 2018 will be written with a Personal computer(laptop or Desktop). So, as much as I believe practicing Jamb past questions at awajis.com/jambcbt will help you get conversant with the Jamb UTME question patterns. And also nail all repeated questions. In the Jamb 2018, Some jambites made the mistake of only practicing with their mobile phone apps. On the day of the actual exam, they were overwhelmed by the Computer Based Test Environment. Don't let that be your case; download the Jamb CBT Practice Software here
About Jamb Brochure and Syllabus: Since the 2018 Jamb form is not out. The joint Admission and Matriculation board (JAMB) hasn't released the official 2018 version. I will make it available on this page once it's out. Sign up for the Jamb news alert if you would wanna be notified when the Jamb Syllabus and Brochure comes out.
This Girl Scored 396 in Jamb CBT Mock Exam:
This girl Iyabo, recently scored 396 in her Jamb CBT practice software. She has had it for over 30 days and has been practicing daily. Gaining that level of mastery with previous Jamb Past CBT Questions will help her do incredibly well in the forthcoming UTME. See a video of her below:

Click here to download the Jamb CBT Practice software for Free.
---
#Old Jamb 2016 News Below
Last Days at Forcados High School Quiz
All Jamb 2016 candidates have / are taking the last days at forcados high school free cbt test at awajis.com/jamb. About 60% of students are scoring just about 10/30. Go try it out and take appropriate correction. Visit JambNews now to see how well you'd perform.
JAMB FREE ONLINE CBT PRACTICE
Jambnews.ng has a free mini test platform for 2016 Jamb candidates. You are all advised to check it out. Click Here to practice with selected subjects.
The public is hereby notified that the Joint Admission and Matriculation Board(JAMB) has commenced the sales of registration forms for JAMB UTME 2016/2017.
Details are on this page JAMB 2016/2017 UTME Application Form Now On Sale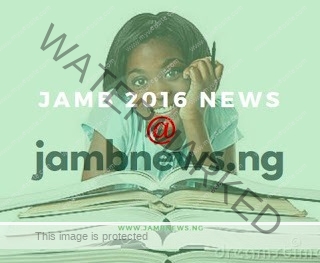 The Joint Admission and Matriculation Board JAMB has concluded arrangement for Jamb 2016 registration. Below is all you need to know about the 2016 Jamb UTME Registration.
Interested candidates should note that the UTME 2016 registration period would only last from August 31th 2015 to January 15th 31st, 2016. The registration website will close finally on January 19th, 2016. While the Jamb 2016 Examination has been slated to commence on Feb.29th 2016 and end on March 14th, 2016.
"The registration fee for the 2016/2017 UTME is N5,000 and candidates are also to pay N500 to obtain the textbook, The Last Days at Forcados High School'.
"Candidates will, however, be issued the book at the point of their jamb registration after showing evidence of payment,"
JAMB REGISTRATION 2016/2017 PROCEDURE
The following procedures are to be followed while registering for the 2016/2017 UTME as directed by the jamb board.
The first thing is to visit the UTME 2016 e-Registration portal, by clicking the link bellow
http://www.jamb.org.ng/Unifiedtme4/
Follow the Instructions such as stated bellow
JAMB 2016 SYLLABUS
The 2016 Utme syllabus has not been officially released by Jamb. You can get it at jambnews blog once it is out. Precisely at https://awajis.com/jamb/jamb-syllabus/
Feeling to go to that website for ordinary Jamb Syllabus? Oya use the links below to download.
| | | |
| --- | --- | --- |
| Introduction | Agriculture | Arabic |
| Art | Biology | Chemistry |
| C R S | Commerce | Economics |
| French | Geography | Government |
| Hausa | Home Econs | Igbo |
| I R S | Literature | Mathematics |
| Music | Physics | Princ. of Acc |
| Use of English | Yoruba | #jambnews# |
---
Here is where you can get the genuine Jamb 2016 Brochure – Click Here
Can't go over to the page? Use the links below to download 2016 Jamb UTME Brochure.
Faculty of AdministrationFaculty of Agriculture.Faculty of ArtsFaculty of EducationFaculty of EngineeringFaculty of LawMedicals / PharmacyFaculty of ScienceFaculty of Social ScienceFaculty of Social Science
---
GENERAL INSTRUCTIONS FOR JAMB REGISTRATION 2016/2017
Note: If you did not submit your form before the closing date of the registration which is on January 19th, 2016, your entry is forfeited.There the jamb board had advised all prospective candidates to ensure they obtained the application forms early as well as fill their personal data correctly to avoid any mix up.
---
What is JAMB
A at 1974, there were seven (7) Universities owned by the federal government in Nigeria. Every one of these university back then conducted their own entrance examination and admitted students based on individual standards. However, this system of admission did reveal serious limitations and wasn't very fair.
The general untidiness in this system of admissions into Nigerian universities and the attendant problems that ensued  were sufficient cause for concern to the committee of vice – chancellors. These problems had assumed new dimension when in 1976, the then federal military government, under the leadership of General Olusegun Obasanjo,established six (6) more universities. Consequently, the government set up a national committee on university entrance under the chairmanship of Mr. M. S. Angulu.
Locations Where You Can Buy JAMB Registration Scratch Cards
Below are the points where JAMB scratch cards can be purchased. You should visit one of the these places or go straight to Jamb CBT centre to get yourself registered.
The Banks are:
1) First Bank Plc
2) First City Monument Bank
3) Skye Bank Plc
4) Union Bank
5) Zenith Bank
Visit any of their branches nationwide to buy the JAMB e-registration scratch card.
Other selling points are:
1) JAMB HQ Abuja
2) JAMB Offices Nationwide
3) NIPOST
JAMB Offices In 36 states of Nigeria
Abia State: 38, Mission Hill Road, Umuahia.
Akwa-Ibom State: Atiku Abubakar Avenue, P.M.B. 1095, Uyo.
Anambra State: Amawbia By-Pass, P.M.B. 6046, Awka.
Bayelsa State: 3, Police Headquarters Road, Yenagoa.
Delta State: Usonia Street, By Okelue, West End, P.M.B. 95093, Asaba.
Ebonyi State: State Secretariat Complex, Abakaliki.
Edo State: Plot 21b, Ikpokpan Road, GRA, P.M.B. 1169, Benin City, Edo State.
Ekiti State: Opposite Christ School, Iworoko Road, Ado-Ekiti.
Enugu State: No. 22, Hillview Avenue, Independence Layout, Enugu.
Gombe State: Plot No. 2, Doctors' quarters, C/O General Buahri Housing Estate, G.R.A. New Layout, P.M.B. 133, Gombe.
Imo State: Ministry Of Commerce Building, Orlu Road Secretariat.
Jigawa State: Hussain Adamu Polytechnic, Dutse.
Kano State: Rumfa College, B.U.K. Road, Kano, Kano State.
Katsina State: Funtua Close, Off Bayajidda Road GRA, P.M.B. 2144, Katsina.
Kebbi State: 1, Justice Usman Mohammed Road, Off Murtala Mohammed Way, Tudun Wada, P.M.B. 1134, Birnin-Kebbi.
Kogi State: Block 574 Salau Atima Housing Estate, Opposite Lokongoma Phase 11, P.M.B. 1057, Lokoja.
Kwara State: Ground Floor, ADP Building, Jebba Road, Zango-Ilorin, P.M.B. 1371, Ilorin.
Nasarawa State: Former Studio Of Nasarawa Broadcasting Service, Near Deputy Governor's Office, Jos Road Secretariat, P.M.B. 107, Lafia.
Niger State: Former Ministry Of information Building, P.M.B. 185, Minna.
Ogun State: Premises Of Ogun State Staff Development Center, Ibrahim Babangida Boulevard Abeokuta.
Ondo State: Quarters 92, Alagbaka Estate, Near C.B.N Office, IBB Avenue Akure.
Osun State: Tehnical College Premises, Iwo Road, P.M.B. 4330, Osogbo.
Oyo State: Quarters 845, Opposite Ikolaba School, Agodi G.R.A, Ibadan, P.M.B. 58, Agodi Post Office, Ibadan.
Plateau State: 56, Murtala Muhammed Way, P.M.B. 02065, Jos.
Rivers State: 9, Ozuzu Close "D" Line, Port Harcourt.
Sokoto State: 3rd Floor, Block 19, Shehu Kangiwa Secretariat, Sokoto.
Taraba State: Former Account Department, Teaching Service Board, Old T/C Road, P.M.B 1127, Jalingo.
Yobe State: Bukar Abba Ibrahim Way, (Formerly Maiduguri Road), P.M.B. 1109, Damaturu.
Zamfara State: 8, Sokoto Road, Opposite Wambai House, P.M.B, 01120, Gusau.
Jamb Entry by Direct Application (DE)
Applicants with one of the following qualifications may be considered for admission by Direct Entry:
A minimum of five (5) subjects passed at not more than two sittings with at least two at the Principal or Advanced level of the G.C.E. and the others, at credit level of the SSCE/GCE, NTC/NBC. No subject shall be counted at both Ordinary and Advanced levels.
Two passes at the IJMB Advanced Level Examination or Cambridge moderated Schools of Basic Studies Terminal Examination or Institute of Baccalaureate from recognized institutions with SSCE/GCE, NTS/NBC credits equivalent in three other subjects (SUBJECT TO UNIVERSITY REQUIREMENTS).
Passes in two major subjects in the NCE with S.S.C.E, NTC/NBC credits or equivalents in THREE other subjects (mainly for Education Courses). Education may be accepted as a third A'Level subject for those taking courses in Education. | jamb.org.ng | jamb brochure
Registration Period for Jamb 2016
The registration period is Monday, 31st August, 2015 to Friday, 15th January, 2016 and the website closes on Tuesday, 19th January, 2016.